This post is a cautionary how-to tale for the chaps out there because the last thing you want to do with a Valentines Gift is 'get it wrong'. Getting it wrong of course is a subjective term and this is only a brief guide, but if you have your heart set on lingerie then here are my simple rules that I urge you to obey (or forever risk a spurned girlfriend / wife who labels you as insensitive / thoughtless / etc) and brings 'that year you bought me a crotchless yellow thong for Valentines day' in future argument narratives. You get my point. So where do you start? The three golden rules are....
DO NOT GUESS HER SIZE
Check her actual underwear / lingerie that she wears CURRENTLY for sizing. This is very important, especially if she has recently had a weight fluctuation, which yes
is
a bit of a sensitive subject. But you will get brownie points for getting it right and the information is at your fingertips (a-herm) so make sure you make a mental note and DO NOT GET IT WRONG.
DO NOT BUY SOMETHING TACKY / RED SATIN / BOTH
Think about the kind of girl that she is and what she would normally buy herself. Unless you know that she loves leopardskin silk with a purple lace trim then be sensible and err on the side of caution. Black lace is sexy as hell and will not offend anyone. I've picked out two Agent Provocateur sets that fit this bill. The one on the left is Belisa, and the other is Rosalyn which features cute little polka dots. Think about how your girl likes to dress. For high fashion or goth inspired rock chicks then go with the simple option. If your girl loves lots of jewellery and retro vintage styling then you can probably risk the polka dots. But don't deviate too much if you are not sure. And women do not want red satin tacky undergarments unless we buy them ourselves. Like for a joke, or Rocky Horror. Just don't go there.
DO BUY ACCESSORIES IF NEEDED
If it needs stockings then buy them too. If it doesn't have suspenders then buy hold ups. Box them up in tissue paper and add petals and a bottle of her favourite scent.
SHOP THE RANGE - BELISA: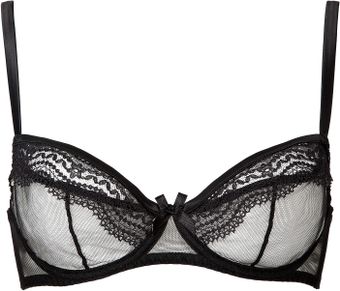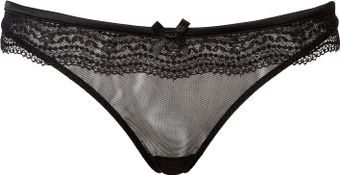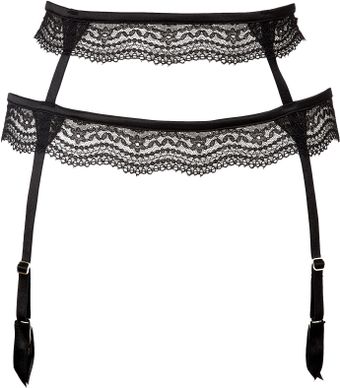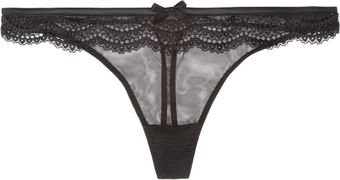 SHOP THE RANGE - POLKA DOT ROSALYN: