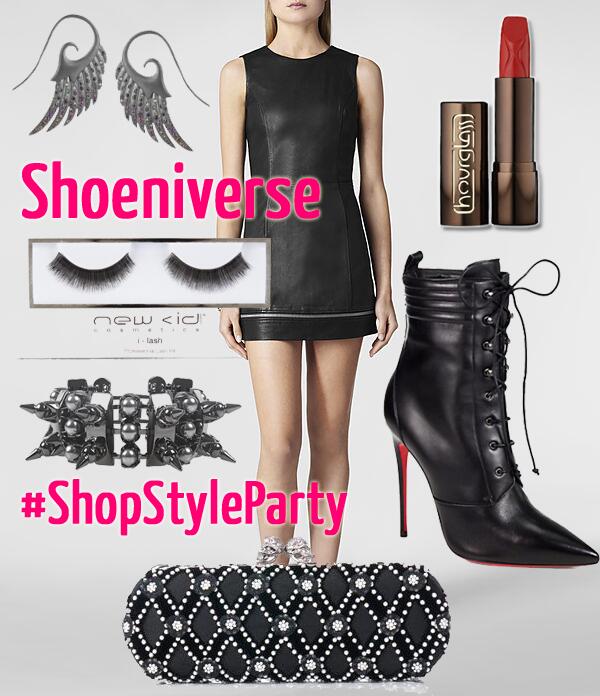 Here's my competition entry mood-board for a wonderful competition I found over on The Style Rawr. Feel free to let me know what you think of my Christmas and New Year #ShopStyleParty outfit, and if you like any of the pieces you can click the links below to go shopping.
AllSaints Ramona Leather Dress
£398
I adore this dress, not only do All Saints produce my personal favourite leather goods, but this dress is edgy and simple enough to dress it up a myriad of different ways. It's something I would feel a million dollars in every time I wore it.
AllSaints Drexel Cuff
£118
A little bit of spiky bling just to add some extra edge to this fantastic rock chick theme outfit. I love pewter and gunmetal shades in jewellery and accessories, and this cuff is absolutely stunning.
Christian Louboutin Mado Leather Lace-Up Ankle Boots
£1,035
You can't go wrong with classic black leather Loubies, but when they are also in the form of a spiked toe ankle boot? Simply divine.
Alexander McQueen Twin skull East West clutch
£1,145
My beloved McQueen and the infamous skull motif are a longstanding favourite as regular readers will already know. This twin skull clutch runs the right balance of sweet and edgy to really complement the other pieces while still standing out.
Net-a-Porter Noor Fares Galactic Garden Wings rhodium-plated sterling silver multi-stone earrings
£2,485
I love these, simple slick backed hair, glossy red lips and statement earrings are a really easy way to look elegent and sophisticated for evening events. These are real head-turners.
Hourglass Femme Rouge Velvet Crème Lipstick
£22
A classic deep red pout. Think Robert Palmer's 'Addicted to Love' video. Haor back, Lippy on, Smoked eyes. It's all you need.
New Cid Cosmetics I-Lash - Black 04
£12
Just to add a little extra drama to proceedings, finish it all off with dramatic false lash strips.
You can find details of how to
enter this competition right here at The Style Rawr
.