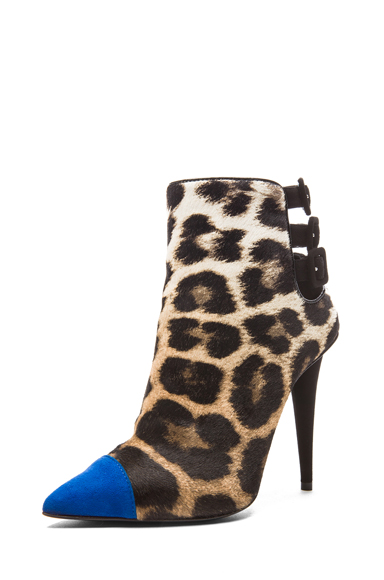 Oh dear me, we have seen some truly sinful designs in the past few weeks, but somehow I never imagined GZ to become one of the culprits. These shoes are just a little bit odd. The overall design, if in a single colour such as black patent (suede toe) or pewter high shine metallic (patent black toe) I would have fully embraced. But the mix of medias simply do not work for me. Leopard print, cobalt blue and then black straps? Really, Giuseppe? I'm sorry, but I do not approve.
The additional pictures do nothing to prove me wrong... If anything it makes the case even more damning, as the heel is a little bit.... odd too. *sigh*
Am I being overly dramatic here? Do you think they are actually amazing?
Buy GIUSEPPE ZANOTTI Brown Leopard Bootie
- £863