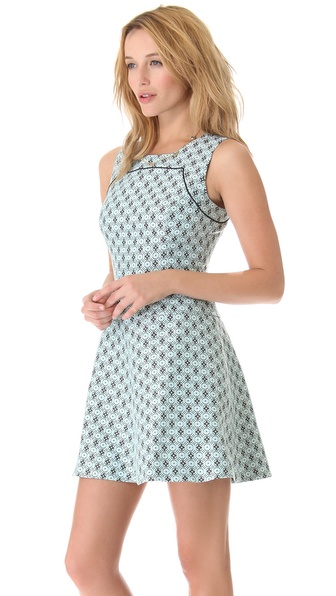 Such a cute dress from Club Monaco, with its geometric retro inspired pattern and easy to wear a-line skirt. But how can you show this off to its best potential? It would be easy to wear for a shopping trip or lunch in the park with simple white Converse and a straw hat, but for evening it starts to get a little trickier. Many traditionally 'eveningwear' styles or colours such as silver metallics simply won't work with this kind of dress. However choose your accessories wisely and you can turn a simple day dress into a stunning evening outfit too. Here's how - just add navy blue.:
ISOLA
Blue Isolá Angelique Sandal
COAST
Blue Nora Bag
Simple pieces that will make your dress very evening ready.
Buy the dress
//
Buy the shoes
//
Buy the bag
How would you wear it?