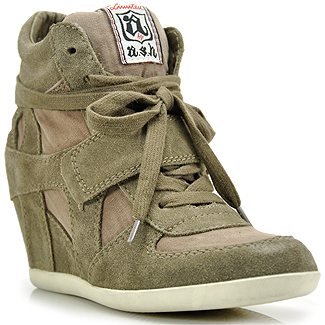 The wedge trainer trend doesn't seem to be going anywhere anytime soon, so how to dress these gorgeous Bowie Ash trainer boots for Spring into Spring?
Just keep it super simple!
TOPSHOP
Grey Knitted Textured Grunge Crop Jumper
ALEXANDER MCQUEEN
White Summer Floral Skull Vest
TOPSHOP
Grey Denim Look Skater Skirt
VALENTINO
Pink Embroidered Rock Stud Bag
Perfect for every day wear - warm and comfy too if the sun peeks back behind the clouds.
Buy ASH Grey Bowie Suede Wedge Sneaker