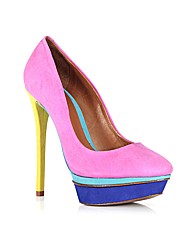 Well now, these
clearly
are meant to be seen.
New in on the Moda in Pelle website, the Kalentay style is available in three colourways, but this is by far the most vibrant. If black or nude is more your thing then click here to see all options.
These are loud and in-your-face, and what's more they don't care. And more to the point, neither do I. They are unapologetically fabulous, stunningly bright, and all around show-offs. If you are too then click here to buy yours now for £119.95.
Details:
A seductive high grade Brazilian pink nubuck double layer platform court shoe with sky scrapper heels. These shoes have full leather sock and lining. **Note - These are a smaller and narrow fitting shoe.